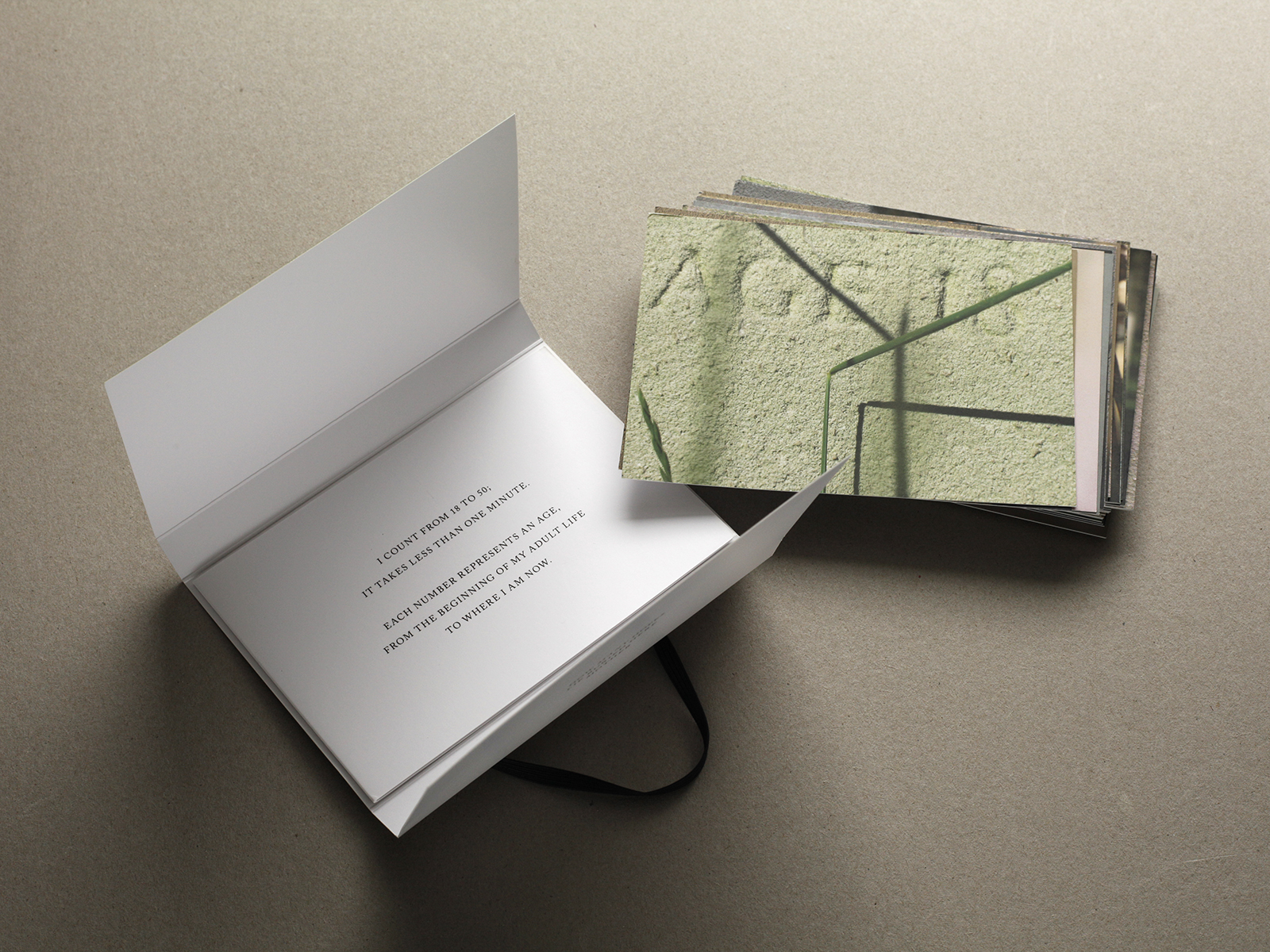 How Many Hopes Lie Buried Here Mother
Artist's book, 2016

Event, Nunhead Cemetery, London, 2016; Exhibition, Dutch Centre, London, 2016; Remembrance Day speech, Dutch Church, 2016; Artist's talk, Kings College, London, 2018


A bundle of thirty three blank postcards held together by a black elastic band collated inside a custom-designed fold-out pocket, How Many Hopes Lie Buried Here is a monument to

the lost hopes of fallen soldiers and everyone affected by their death. It's also a comment on the scourge of war and the never-ending promotion of war by governments.

A bundle of blank postcards show close-up photographs of all ages from eighteen to fifty on World War I and II headstones. A brief text states: 'I count from 18 to 50; it takes less than one minute. Each number represents an age, from the beginning of my adult life to where I am now.'

Jan Woolf writing for No Glory in War, states: '(The work) doesn't aestheticise war, but it does personalise it, as the artist invites us to reflect on the hopes and dreams any of us may have had at twenty-two, thirty-three, fifty…'


---

The book is dedicated to Canadian World War I soldier, eighteen-year old James Carter Irwin (1898-1916) and his mother Jennie Carter Irwin (1871-1925). James was wounded on 2 June 1916 during the Battle of Mount Sorrel, Ypres, Belgium (https://www.vimyfoundation.ca/centennial-anniversary-of-the-battle-at-sanctuary-wood-battle-of-mont-sorrel/) and was subsequently transferred to King George Hospital in Stamford Street, London SE1, where he died of wounds on 31 July 1916. His mother supplied the text for the epitath on his headstone at Nunhead Cemetery, London, a photograph of which is on the cover of the book, her poignant question, signed 'mother', also the project's title.

I launched the book at Nunhead Cemetery on 31 July 2016 at the grave of James on the centenary of his death with a flower laying ceremony and a speech remembering both James and his mother.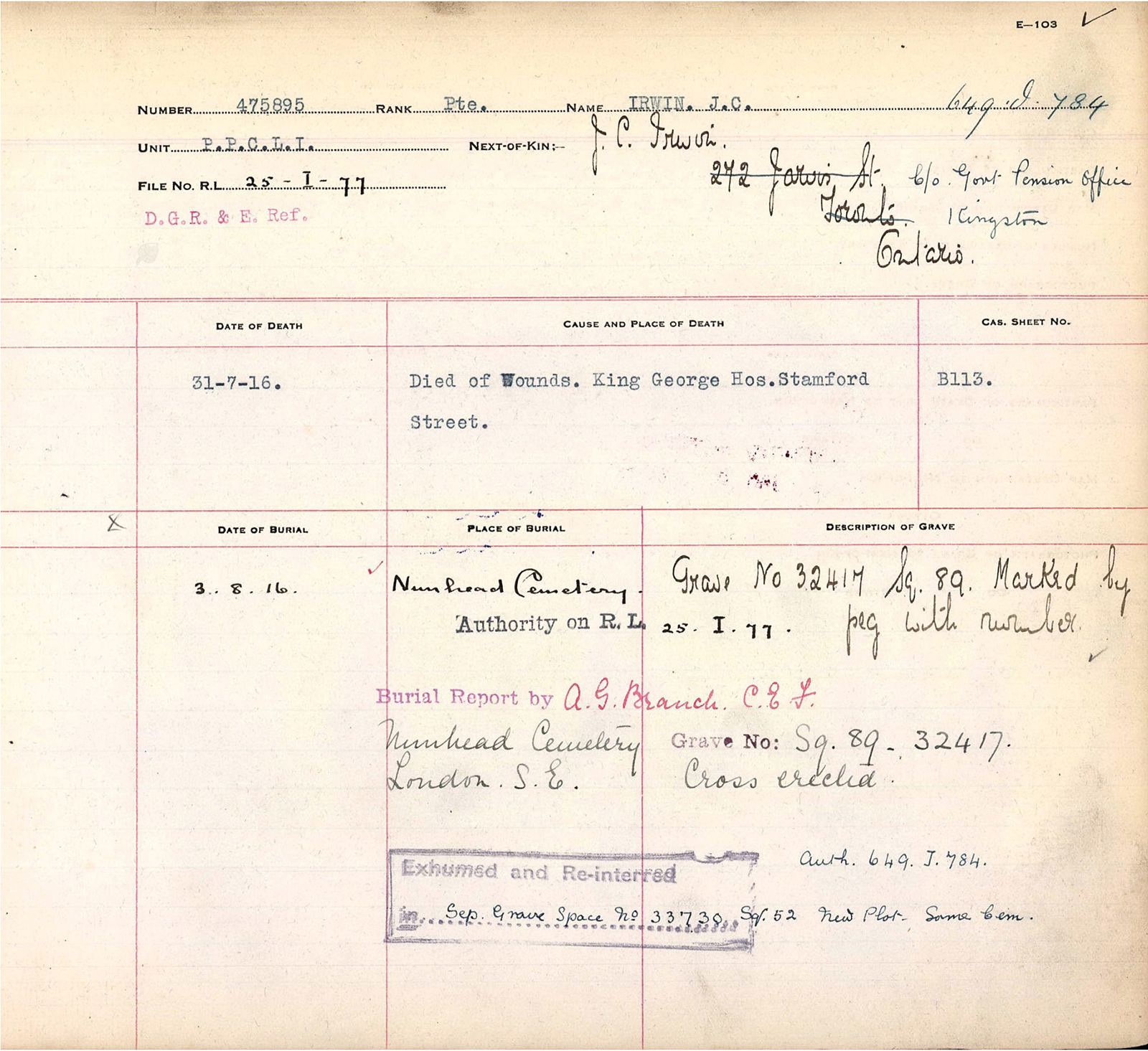 Historical documentation relating to James Carter Irwin and his burial at Nunhead Cemetery
The postcards were exhibited at The Library, Dutch Church, London EC2N 2HA in 2016 (11 October to 18 December), see photographs below. I paid tribute to James and his mother during a Remembrance Day speech in the Dutch Church on 13 November 2016.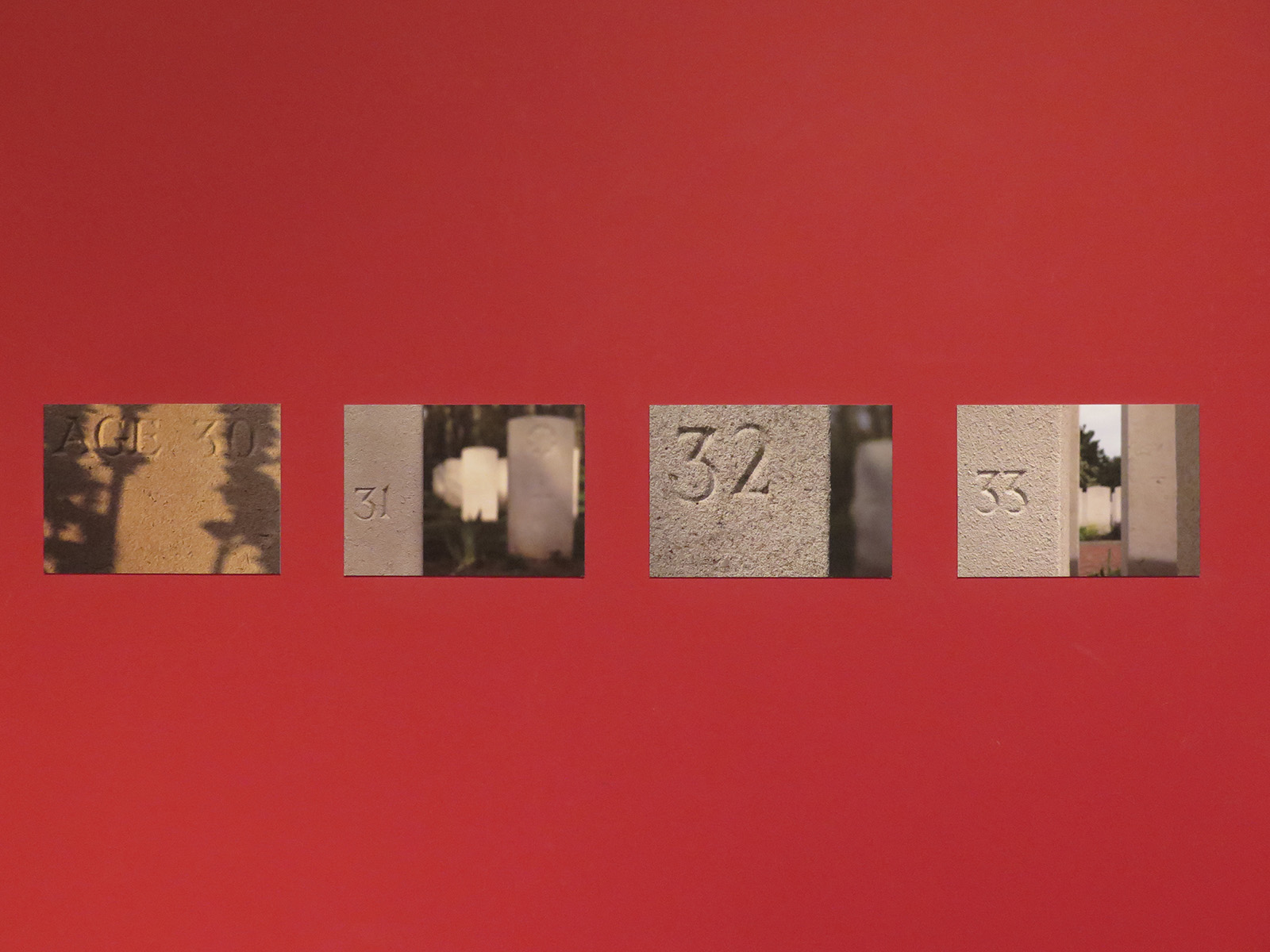 Exhibition view at Dutch Centre, Dutch Church, London

As part of Dialogues of the Dead, a day of explorations of life writing and death on 24 May 2018 at King's College, London, I delivered a paper about the background to How Many Hopes Lie Buried Here Mother, also sharing a photograph of James which had recently become available.
---
Jan Woolf's review of How Many Hopes Lie Buried Here, 14 August 2016
---
How Many Hopes Lie Buried Here Mother — fold-out sleeve, thirty-three postcards (300gsm, matt), glued folded insert (300gsm, matt), black elastic band, brass eyelets, overall size 148mm x 106mm x 18mm. Edition of 50. Published 31 July 2016 by Negative Press London,
www.neg-press.com/books
WORK︎︎︎
NEXT ︎︎︎