The Spots That Never Went
Artist's book, 2018, Negative Press London, reprint 2020. Exhibition Cambridge Artspace, 2020. Exhibition Photofusion London, 2021


The Spots That Never Went – 28pp tabloid newspaper with colour print, 4pp broadsheet supplement collated in an archival pocket.
https://negativepresslondon.bigcartel.com/product/the-spots-that-never-went


The Spots That Never Went is a personal response to memories of the AIDS crisis in 1980s-90s London and the lasting impact on a generation. Originally an artist's book presented as a tabloid newspaper in which abstract images face short sentences, such as 'I remember a time when the police raided bars and clubs wearing decontamination suits and gloves', the book has evolved into an exhibition exploring storytelling using image and text, form and live performance.

The book reclaims the tabloid format from UK tabloid newspapers and their bigoted and hateful reporting about the lives of lesbian women and gay men, the AIDS pandemic and people living with HIV/AIDS in the 1980s and 90s.

An experiment in making a publication using one photograph, a Polaroid of a rotten, spotted apple held tenderly in the palm of a hand is converted to a mono halftone image, segments of which create new abstract, black and white photographs, expressing fragmented memories and forgotten history, while also communicating ideas about life and death, loss and hope and of HIV-positive and HIV-negative status.

A colour reproduction of the original Polaroid photograph appears in the centre of the book, bringing transparency to the process of making.

The Spots That Never Went was Highly Commended Finalist of the 2019 Cornish Family Prize for Art and Design Publishing, presented by the National Gallery of Victoria, Melbourne, Australia.




The Spots That Never Went is held in a number of international collections including Wellcome Library, London, National Art Library, V&A Museum, London and National Gallery of Victoria, Australia.

A silent reading video version of the book was part of a triptych performance with writer Darryl Peers at Stormy Weather, a Derek Jarman Protest! symposium at Manchester Art Gallery on 8 April 2022, organised by artist Jez Dolan and the Queer British Art Research Group.

An article to the background of the book appears in The Blue Notebook journal, Vol 14, No.2, Spring-Summer 2020 (Bristol: Impact Press at the Centre for Fine Print Research, UWE Bristol).
https://www.bookarts.uwe.ac.uk/tbn/x1878/33fe/tbn28.pdf

The book was included in 'The Performing Photobook' at Format Photography Festival, Derby, UK, 2023; in 'Print: A Catalyst for Social Change', Bury Art Museum, Bury, 2019 and in 'Salon 18', Photofusion, London, 2018.

Sarah Bodman from the Centre for Fine Print Research (CFPR), UWE Bristol, selected it as one of ten artists' books of 2018, writing, 'It's a brutally simple, heartbreaking thing – we need to read more books like this.' https://www.a-n.co.uk/news/artists-books-2018-10-of-the-best-from-irreverent-fun-to-brutal-heartbreak


---
Exhibition, Photofusion, London, 21 October to 3 December 2021

For both the London and Cambridge shows, I responded to the newspaper by unresolving its format and making new work working with scale, form and overlaying.

The halftone images and text elements are reinterpreted as recyclable A0 Xerox prints with additional large colour halftone works. Halftone dots become lasercut sculptural shapes, which spread in the gallery space like a virus multiplying.



Other artefacts show fallen apples retrieved at the end of the apple season, some referencing paintings by fellow Dutchman and former London resident Vincent van Gogh.

Mitchell Moreno reviewing the show for Photomonitor, writes, 'The apple is another recurring theme – a symbol of prelapsarian innocence and utopia, now fallen and turned bad. For the artist the fruit also acts as a proxy for his English lovers, as in "Some Are Here And Some Are Missing", where apples lay on top of a copy of Van Gogh's "Sunflowers" – symbolising Bakker's Dutch body.'

New work was also created during a lockdown residency at The Queer Hut, a desolate wooden structure on a disused railway embankment overlooking Cambridgeshire fields.

Two performance works, Nineteen Eighty Seven and My Son (see below, photograph by Elizabeth Doak), were performed live throughout the duration of the show evoking inter-generational discussion, sharing histories and personal experience.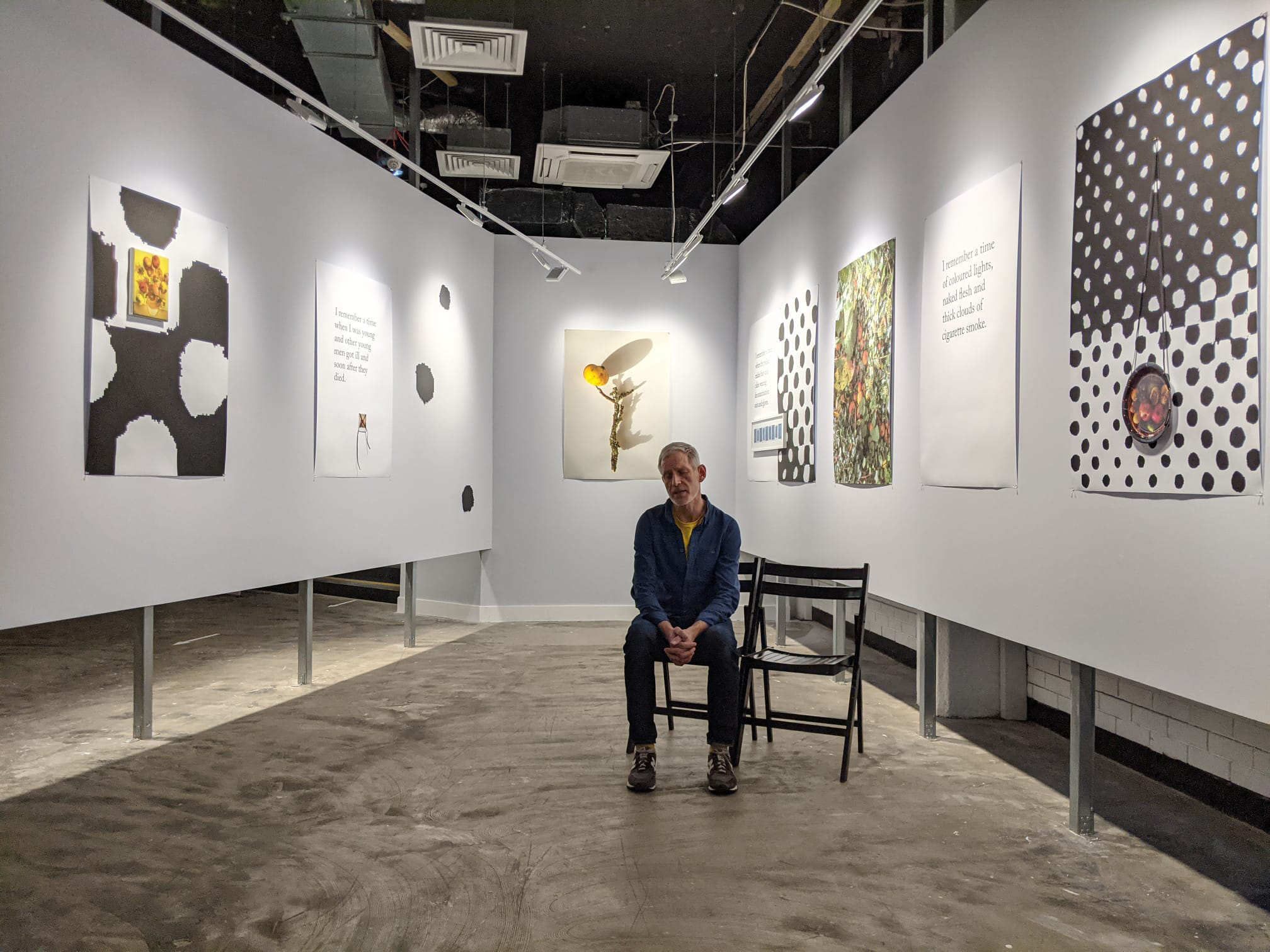 Photomonitor review of the Brixton show by Mitchell Moreno at https://photomonitor.co.uk/exhibition/roelof-bakker-the-spots-that-never-went/


---
The Spots That Never Went, Cambridge Artspace, Cambridge, Gay History Month, February 2020
A work-in-progress exhibition which took place during Gay History Month, February 2020, at Cambridge Artspace after a residency there autumn 2019. This show included an earlier version of the performance work Nineteen Eighty Seven.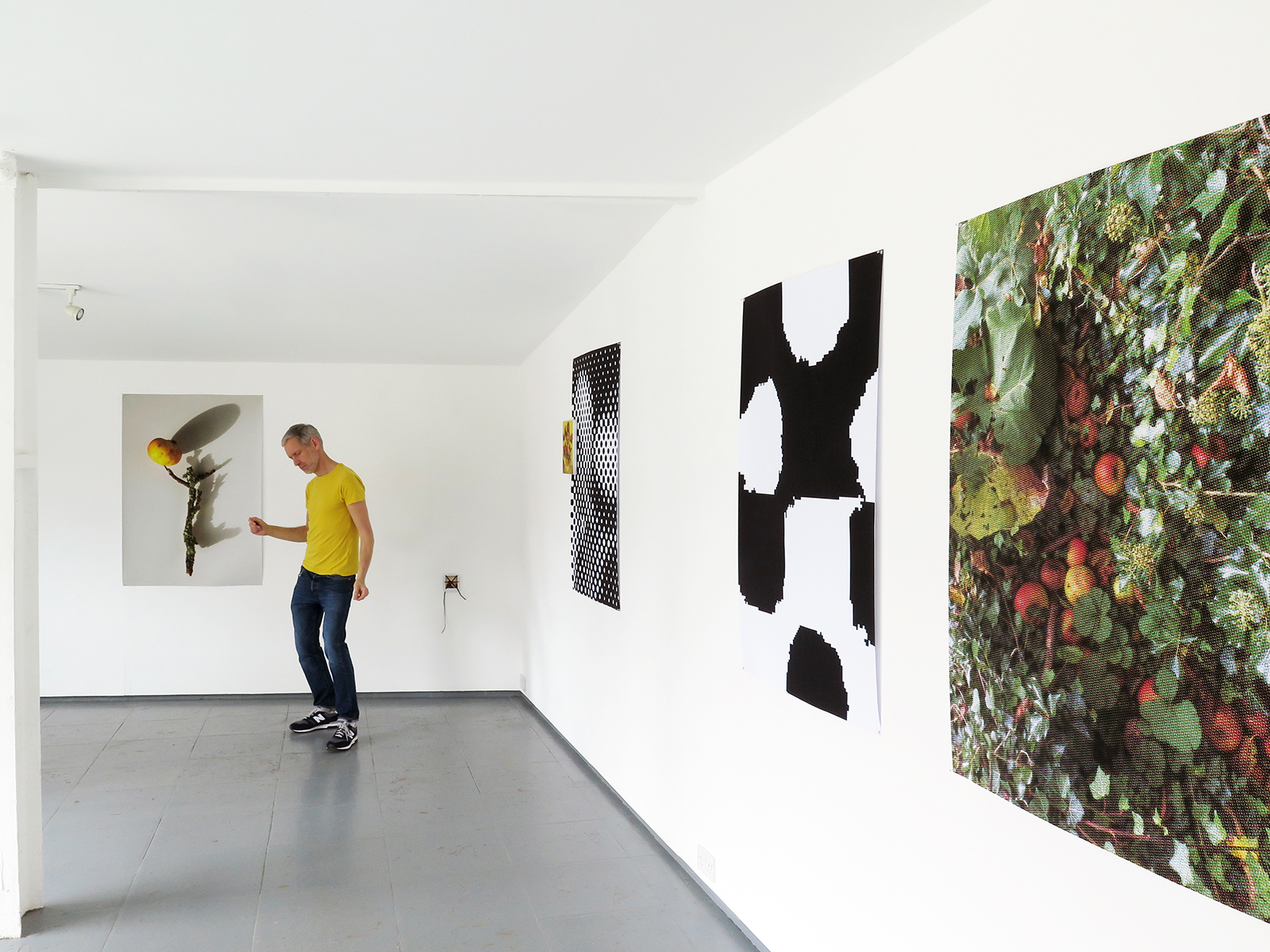 ---
WORK︎︎︎
NEXT ︎︎︎